Dating Done Right is a comprehensive guide to singleness and dating for men and women of any age or life stage. Crystal Renaud Day was inspired to write Dating Done Right shortly after she met her husband in 2017. However, Dating Done Right is the book she had always searched for as a single Christian living in the aftermath of the purity culture she grew up in. Dating Done Right encourages singles to be content right where they are. This is accomplished by getting to know who they are first and discover what they want before ever entering into a new relationship. Dating Done Right is also designed to encourage dating couples to get vulnerable with each other—not to casually date or be pressured to marry fast. Instead, dating couples are encouraged to pursue relationships on purpose with marriage in mind.
In Dating Done Right, Crystal shares her own personal journey of perpetual singleness, her heartache along the way, and the joy she found both in her singleness and after meeting her husband. Comprised of relatable stories and over 500 reflection questions, individuals will learn to navigate singleness and dating with wisdom.
---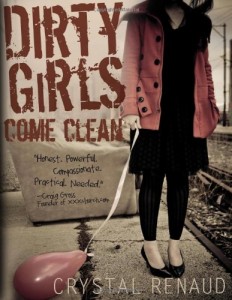 Recently there has been an explosion of ministries, churches, and individuals battling pornography's destructive and tragic effects. Porn is highly addictive and requires plenty of tools to break its strangling hold. However, these ministries and tools are more accessible to men than women. Women turn to pornography for different reasons than men but once addicted feel the same alienation and shame. Women desperately need a place of confession, accountability, and healing separate from men.
In Dirty Girls Come Clean, Crystal Renaud – whose own pornography addiction started at age 10 – provides steps to recovery uniquely tailored for the female addict. Beginning with surrender, moving to confession, embracing accountability, owning responsibility, to finally sharing with others, the reader will be taken on a journey that can guide her from a state of woundedness to one of healing.
---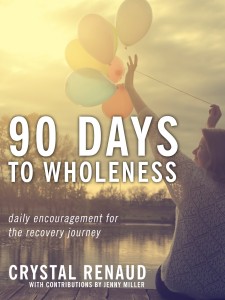 It is said it takes 90 days to form a new habit and in addiction recovery, Twelve-Step groups challenge newcomers to attend 90 meetings in 90 days. 90 Days to Wholeness seeks to serve a similar purpose. This 90-day devotional for women is designed to kick-start recovery from pornography and sexual addiction (and other strongholds). 90 Days to Wholeness is uplifting, rooted in scripture, and will challenge women to throw down and break free from the strongholds in their lives as it journeys them through the S.C.A.R.S. Recovery Process adapted from the book Dirty Girls Come Clean (see above). Whether you are seasoned in recovery or finding yourself at the very beginning of your journey: this devotional is for you.